Raspak
Raspak offers a wide range of grocery products from dry mixes to parbaked products.

HoReCa, for food manufacturers
Sauces, spreads (pastes), preserves

Dry ingredients and mixes
Kissel, kvass (powdered drink)

Dietary and diabetic products

Instant porridge and puree

Sauces, pastes, preserves
Raspak brand name ensures: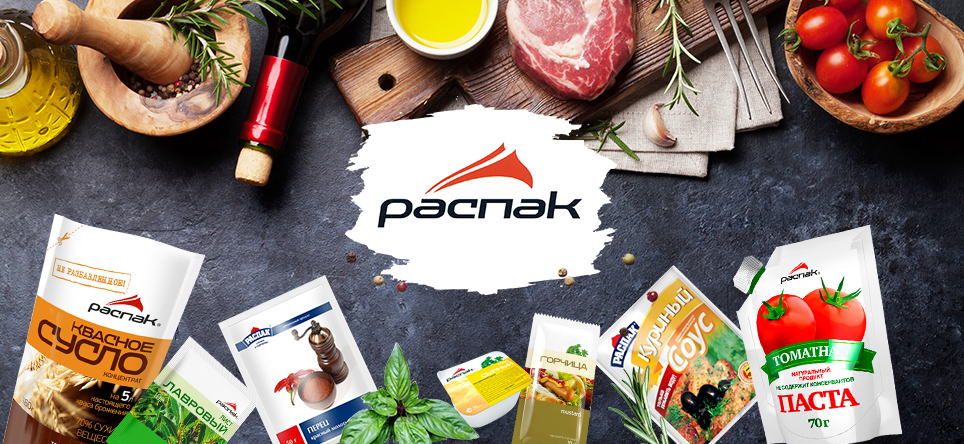 wide range of products and services from filling to dry mixes, parbaked products and tomato paste;
punctual deliveries on time, without disruptions and implausible excuses;
own manufacturing, running with strict observance of technological process and sanitation norms;
maintaining taste traditions - each recipe is a result of scrupulous selection and is tested on customer experience;
cooperation with retailers from discount shops to upscale hypermarkets;
price affordability. Company's approach to reduction of prime cost entails optimization of auxiliary technological processes instead of replacement of quality raw materials by less expensive similar products;
placing trustworthy information about the product and its content on the package.
About Raspak company
The enterprise has been manufacturing groceries, preserves and dietary products since 1994.
Over the years of its operating Raspak widened its services in product filling, implementing all types of packages from sachet to deep pots.
The company acquired wide experience in cooperation with retail networks and HoReCa, which allowed to work out and manufacture hundreds of successful recipes. Currently the company has a positive goodwill as a team of professionals among its partners, including METRO, Magnit, X5 Retail Group, Auchan/Atac, Lenta, O'Key, SPAR, HyperGLOBUS, Billa, Azbuka Vkusa, Magnolia, etc.
Main categories of groceries, offered by our brand, comprise inter alia:
dry mixes and food preservatives;
Raspak instant kissels; instant porridges;
dietary products;
preserves;
parbaked products;
seasonal products;
spices and flavourings;
sauces.
Every product group includes different types of filling and packaging. The variety of flavour fillers in an individual product line simplifies customized approach to preferences of end-buyers. Here we can mention, that instant kisel is offered in the variety of 6 different tastes.
Automated manufacturing process
Manual labour is still widely used at many production stages at a number of grocery manufacturing facilities. We did our best to minimize the participation of personnel in manufacturing cycle. The major part of the job is done automatically. In this way we exclude the influence of human factor on product quality.
Quality and safety
Our personnel strictly observe sanitation and hygiene standards of manufacture. Even minor omissions may entail monetary penalties. Product quality is confirmed by FSSC 22000 certificate of conformity. We are 100% assured that the quality of our products is high, as we and our children eat them ourselves.
Raspak brand grocery assortment from A to Z
We offer over 200 articles in various price segments. Based on regular monitoring of consumer market, we learned to position our good for customers of different classes. We offer affordable and quality food stuff for daily consumption like spices, parbaked products or dry mixes.
At the same time Raspak is able to offer more sophisticated solutions for more exacting clients. Among others our products are sold under Raspak brand name in supermarkets of Azbuka Vkusa network.
Let's build efficient business together
For the years of operation we've been constantly growing together with our partners and friends. Raspak brand awareness and customer's loyalty are increasing with every day. We always strive to be one step ahead of our competitors, demonstrating our expertise and flexibility in cooperation forms. Choose what is right - choose Raspak!