Yem so vsem
Raspak offers its novelty – Yem so vsem line of sauces.

HoReCa, for food manufacturers
Sauces, spreads (pastes), preserves
Sauces, pastes, preserves
Traditional and familiar sauces, prepared according to refined recipe — ketchup, barbeque, mustard, cheese sauce and Caesar for fans of traditional cuisine. Also sophisticated (off beat) flavourings – chipotle, adjika, clusterberry sauce for those who seek for unusual gustative revelations. "Yem so vsem" means:
Natural taste and quality ingredients
10 years of HoReCa customer experience testing as to its tastes
Improved original recipes
About Raspak company
The enterprise has been manufacturing groceries, preserves and dietary products since 1994.
Over the years of its operating Raspak widened its services in product filling, implementing all types of packages from sachet to deep pots.
The company acquired wide experience in cooperation with retail networks and HoReCa, which allowed to work out and manufacture hundreds of successful recipes. Currently the company has a positive goodwill as a team of professionals among its partners, including METRO, Magnit, X5 Retail Group, Auchan/Atac, Lenta, O'Key, SPAR, HyperGLOBUS, Billa, Azbuka Vkusa, Magnolia, etc.
What does Yem so vsem stand for:
Comprehensive name of a trade mark
The brand name conveys the main idea of this line of sauces — possibility to add it to all dishes. Cyrillic name consists of rhyming words. It is easy for a customer to read and to memorize.
Bright package
Recognizable package design will distinguish the sauce on the shelf with similar products. Each sauce has an individual colour pattern of its package, which makes it easier to find the necessary one among the variety of sauces.
Tested taste
Tastes of all sauces have been tested for 10 years through monitoring preferences of HoReCa customers– cafe and restaurant guests. Based on the customer preference study, the recipes, which were liked most of all, were selected for mass production.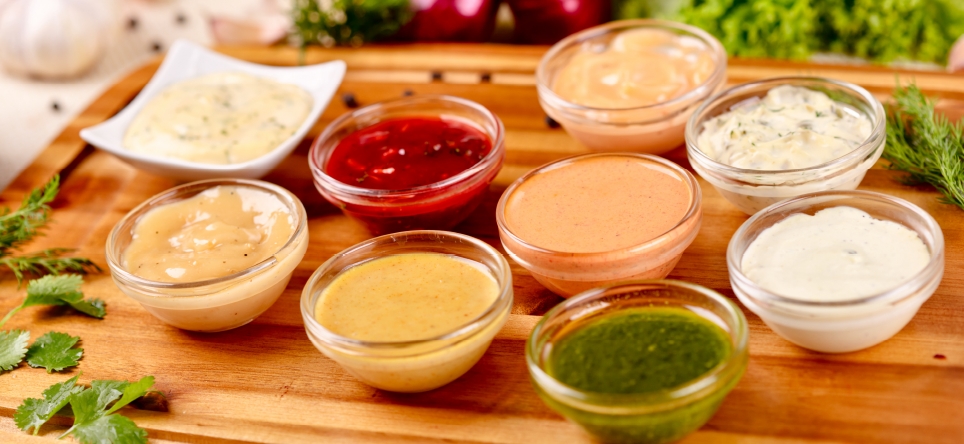 During the testing period 13 recipes of the renowned Caesar sauce were formulated. And only the most palatable won the right to be manufactured under Yem so vsem brand name.
Promotion
To raise the awareness of the new brand the company is willing to take part in promo events of retail networks, aimed at promotion of groceries, inter alia, to support catalogue publishing and video releases, to finance outdoor advertising and to grant price discounts.
Why is Yem so vsem both tasty and qualitative?
For sauce preparation we use only high quality ingredients from our certified suppliers. Quality of the produce of all companies, supplying raw materials for Yem so vsem has been tested in Raspak laboratory.
In 2016 a large-scale producer of tomato paste offered to use it for Yem so vsem ketchup. But the specialists of the factory laboratory found starch in tested samples, and the offer was rejected.
The quality of Raspak products is confirmed by safety standard in the food delivery chain Food Safety System Certification 22000. The certificate was issued in March 2013 in Germany.
Taste them yourselves
Order a trial batch of Yem so vsem sauces to taste them and you will see their quality for yourselves. Order now and our manager will contact you to discuss the order details.