Silunch
Raspak presents its latest offer – Silunch line of sauces.
HoReCa, for food manufacturers
Sauces, spreads (pastes), preserves
Sauces, pastes, preserves
Silunch combines previously conflicting benefits: fast preparation, high nutrition value, natural taste and low price. Silunch means:
Revolution in quick to cook lunches
Ideal combinability with garnish
Cost economy without quality diminishing
How the idea of supersauce evolved
The headlong pace of modern life generated high demand for fast meals. Not everybody can afford dining out, therefore people are seeking for the ways to shorten the time for cooking. As a rule, garnish, consisting of rice, buckwheat, potatoes and pasta is cooked beforehand and in sizeable volume, and then taken in portions for lunch.
But garnish as it is is not palatable. Traditional sauces - ketchup or mayonnaise don't solve the state of things. Customers are looking for something more substantial in the shops - for an additive, whose one lump could transform plain garnish into adequate snack - nutritious, quick and inexpensive.
The idea of Silunch evolved as a reply to this challenge. The concept was to develop a concentrated sauce, satisfying customers' need for fast cooking a tasty lunch on the basis of ordinary garnish.
About Raspak company
The enterprise has been manufacturing groceries, preserves and dietary products since 1994.
Over the years of its operating Raspak widened its services in product filling, implementing all types of packages from sachet to deep pots.
The company acquired wide experience in cooperation with retail networks and HoReCa, which allowed to work out and manufacture hundreds of successful recipes. Currently the company has a positive goodwill as a team of professionals among its partners, including METRO, Magnit, X5 Retail Group, Auchan/Atac, Lenta, O'Key, SPAR, HyperGLOBUS, Billa, Azbuka Vkusa, Magnolia, etc.
What is Silunch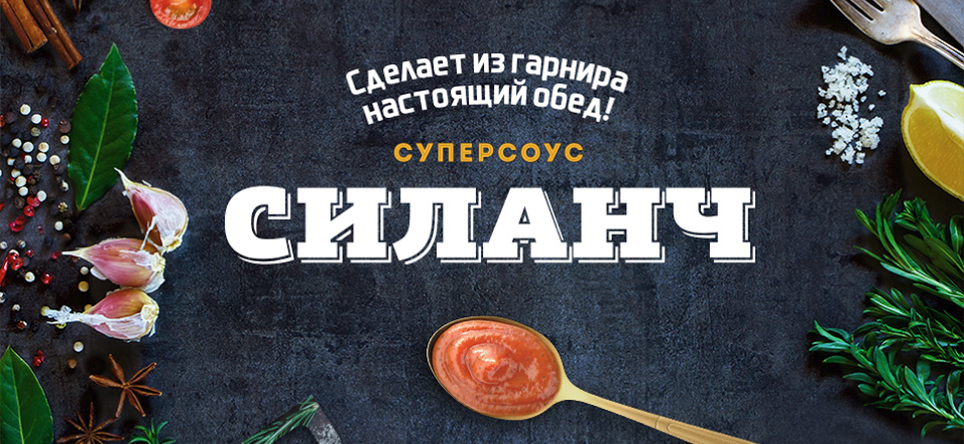 Restart of the idea of a quick to cook lunch
One doesn't have to compromise on the taste and the nutrition value of a quick to cook lunch with Silunch supersauce. Suffice it to add one table spoon to garnish and stir. The lunch is ready! Less than 30 roubles per portion.
Strong brand name
Concise and easy to remember name is formed at the junction of the Russian word "sila" (power) and the English word "lunch" The concept of product is perceived at a glimpse - substantial lunch, which can satiate any hunger.
Convenient package
Customary stand-up pouch is equipped with a special hole for placing the package on strip-belts. Sauces don't occupy the shelves, but can be conveniently placed with cereals, pasta and potato trays.
Detailed information
The process of lunch cooking with the use of supersauce is clearly shown on each package. Even the most suspicious and skeptic buyers can be convinced, that you can't cook quicker and easier.
Silunch is a reply to customers' need to cook lunch, based on the ordinary garnish!
Quality of Silunch supersauces
The company uses only the quality ingredients from guaranteed suppliers to prepare sauces: butter, grated cheese, freeze-dried meat, spices.
All manufacturers of ingredients, used in Silunch sauce have certificate of conformity, and their products were tested in Raspak laboratory successfully.
The quality of Raspak products is confirmed by safety standard in the food delivery chain Food Safety System Certification 22000. The certificate was issued in March 2013 in Germany.
Taste Silunch
Order a trial lot of Silunch supersauces to study customer interest to the product. You won't have to free the place in the salesroom for sauces - you can just hang them on strip-belts.